Le Renaie Hotel is located in the little village of Pancole, just 5 kilometres from San Gimignano.
A very tranquil position upon the Tuscan hills.
The hotel approaches the ancient "via Francigena" right on the track Gambassi-San Gimignano. Every day, we can meet many trackers, who choose a direct contact with the environments.
Hotel Le Renaie offers a simple familial atmosphere and a friendly hospitality, suitable both for a romantic stay and for the families with kids.
Your animals are welcome.
The hotel is essentially decorated, with pieces of furniture, all over the traditional cotto tile floors. Very bright halls, white girders add more lightness to the building. Pastel colors walls and textile.
Hotel facilities. Our guests can enjoy a splendid flowered garden under the shadow of high ancient pines, between hydrangeas and citrus trees. An open-air swimming-pool in a tranquil private position.
The renowned traditional Leonetto restaurant, with a bar cafeteria and a splendid terrace, overlooking the garden.
Private free parking, complimentary WI-FI in the whole building. Multilingual staff.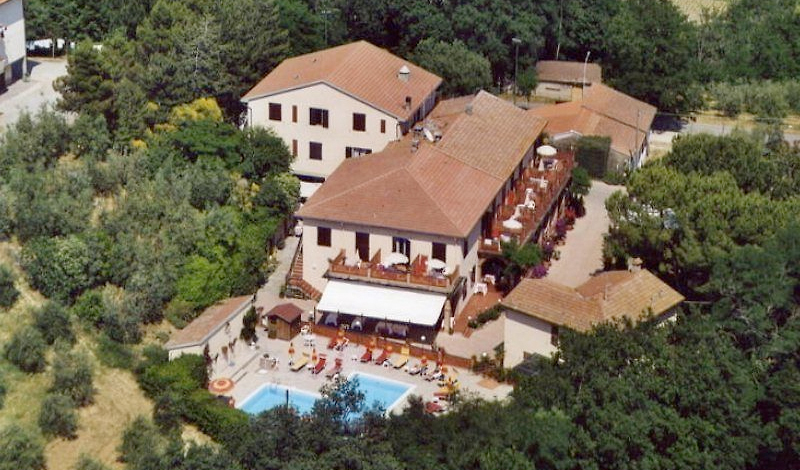 Antico Borgo dei Frati
Place of nature and inspiration
A tourist home placed in the countryside in close proximity of San Gimignano, where it is possible to lease his wonderful 5 flats per weeks, for spending a magnificent and relaxing holiday with the family or with your friends in the heart of Tuscany, surrounded by the green and the history.
Restaurant Leonetto
It was born from the Tuscan homemakers that handed the good traditional recipes.
The smell from the kitchen, the intense aromas of the local herbs on the food, offer a genuine taste. During the good season guests can enjoy the experience on the nice refreshing terrace.